One of the biggest hurdles to the widespread adoption of optical backplanes is the need for an economic process to manufacture optical waveguides in backplanes up to 1 m in size. Groups in Japan, Europe and N. America have been investigating a number of techniques for fabricating optical waveguides embedded within conventional PCBs. PPC/Isola use silica as their optical waveguide which has the benefit of very low loss, but is difficult to fabricate. STET use polymer, and emboss the waveguides. It is difficult to achieve good surface finish using this process, and the resultant guides can have high losses.
BPA identify polymer as being attractive for a number of reasons including its intrinsic low cost and scalability. BPA highlight concerns of as high loss (0.1 – 0.6 dB/cm) and insufficiently resistant to lamination and reflow processes used in PCB manufacture. Terahertz Photonics set out to develop its photosensitive TRUEMODE
TM
polymer to simultaneously meet these requirements.
The resultant TRUEMODE BackplaneTM polymer has:
• Optical loss of < 0.04 dB/cm at 850 nm
• A high glass transition temperature of 150°C.
• A high degradation temperature of 350
°C
Terahertz Photonics come to the optical backplane world with a growing heritage in polymer optical components. Variants of the TRUEMODETM family of polymers are finding application in components including splitters and fan-outs. Expertise obtained in the tight fabrication tolerances and polymer requirements for these single mode components fed naturally into the development of TRUEMODETM polymer for optical backplanes.
The process by which the optical medium is deposited 0on the substrate and patterned to form waveguides is central to optical backplanes. The process consists of four stages. See figure
3
.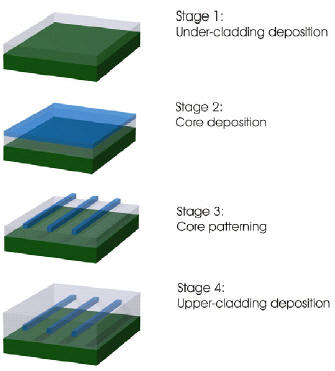 Figure 3: TRUEMODE BackplaneTM
process
The first stage consists of deposition of monomers in a ~20 μm thick undercladding using screen printing followed by low intensity UV polymerisation.

The second stage consists of the deposition of a 50 μm thick layer of monomers having a refractive index typically 1% higher than the cladding.

In the third stage the polymer is patterned by photolithography or laser direct write using a low power UV laser such as a He:Cd laser [2].

The final stage is a repeat of the first, though the layer thickness may be increased for greater protection of the core.


If you don't find what you're looking for, Contact Us. We may have a suitable product that's not listed, or we may be able to develop a material to fit your specific needs. Tel : (02)2217-3442 / Fax : (02)2704-4070