PC3 Coatings


Applications:

1

Planarizing Layer - etchback process to transfer planarity from planarizing layer into

underlying dielectric.

2

Protective Coating - dicing and sawing operations to prevent mechanical damage to the

fabricated device.

3

Adhesive Layer – attaching the device side of the wafer to a wafer holder in back

grinding operations.

Properties: Superb planarizing capability.
Thickness range: 0.5-20 µm
Impact on productivity: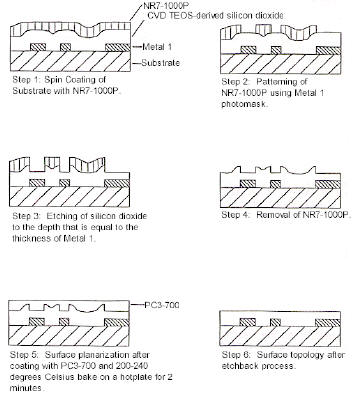 For Planarization Applications: Elimination of Chemical Mechanical Polishing (CMP) in some applications.2 Suppression of microloading effects in etchback process.

For Protective Coating Applications: Elimination of film peeling and cracking during dicing operations.

For Adhesive Applications: 1 Easy removal in Resist Developer RD3 or RD6 after back grinding and wafer separation. 2 Elimination of waxes from backside processing.
PC3 Coatings Coating Thickness
PC3-700 0.6µm - 1.6µm
PC3-1500 1.1µm - 3.2µm
PC3-6000 5.0µm - 12.2µm

 
Planarizing Coatings for Sacrificial Etchback Applications
Thickness Range

0.7 - 12

µm

Performance
Superior planarizing capability.

Outstanding etchback compatibility with underlying dielectric.

Applications
Surface planarization for planarization etchback process.
Protective coating.
Binding layer on the active side of devices for backgrinding.
Protective coating in wafer dicing.
Development of novel UV cross-linkable materials for enhancing planarity in via applications via the correlation of simulated and experimental analyses


Beam Lead Quartz Chips for Superconducting Millimeter-Wave Circuits





If you don't find what you're looking for, Contact Us. We may have a suitable product that's not listed, or we may be able to develop a material to fit your specific needs. Tel : (02)2217-3442 / Fax : (02)2704-4070